---
About
Gillian Cotton Is a New Zealander who holds dual citizenship and has lived and worked in the UK for the past 17 years. She holds a BSc and an MSc (Hons) degree from Auckland University in NZ where she specialised in studying suicidal ideation of people in chronic pain. Gillian continued her studying in the UK and holds a Life Coaching Diploma and post-graduate teaching qualifications.
She is a Chartered Psychologist with the British Psychological Society UK, and a senior associate member of the Royal Society of Medicine. Gillian is a Director of Kent Coaching and Mentoring, and has been an Associate of the Penna HR Services Group. Her clients have included the Home Office, Medway Local Educational Authority and Lloyds TSB.
Gillian is non-judgemental, impartial, and conducts her sessions in complete confidence and in a professional manner. She works to a high ethical standard and focuses on the success of her clients. Coaching is at its most successful where an environment of honesty and trust exists between the Client and the Coach.
---
What Is Life Coaching?
Socrates said, "We all have within us the power to answer every question".
Trained professional coaches have the skills to pose the questions that enable you to establish where you are now and where you want to be or what you want to achieve in the future.
Coaching establishes with you, what your reality is today. Then, clearly defining what are your aims or intentions for the future. The coach works with you to produce a plan of action that you can follow with confidence in a non-judgemental way.
Coaching is the single most powerful, methodical system ever devised for releasing individual human potential.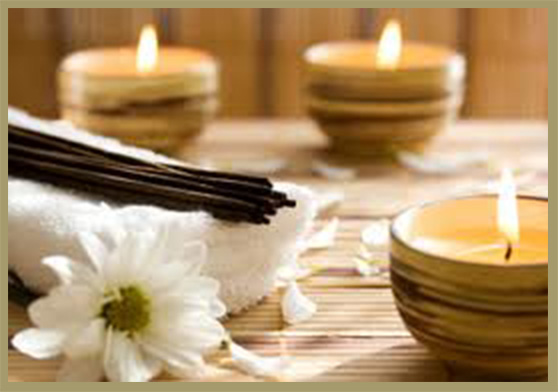 ---
The Wheel of Life Exercise
The eight sections in the Wheel of Life represent balance. Consider the centre of the wheel as 0 and the outer edge as 10, rank your level of satisfaction with each area by drawing a line in each section to create a new outer edge (see example below)
The new perimeter of the circle represents your Wheel of Life.
How bumpy would the ride be if this were a real wheel?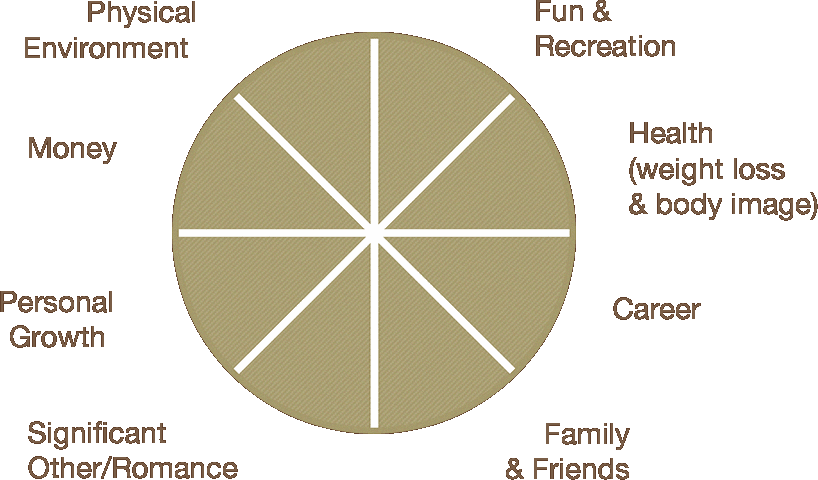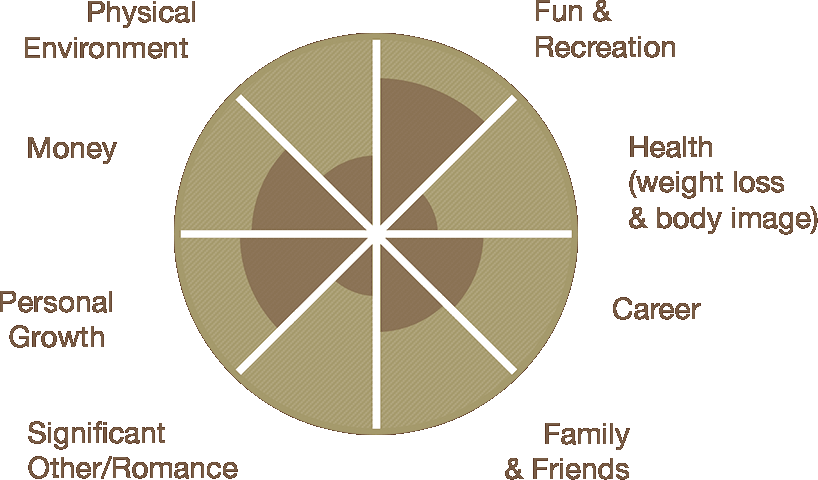 Creating Balance
When we have balance in our lives and living in tune with our values is when we feel at our happiest and most content. Life Coaching can help address the balance by working with you in those areas where you would like to improve your levels of fulfilment.
---
Performance Coaching Portfolio
Some of the services Gillian deals with include:
Life Coaching – Defining Goals
Self-Confidence & Self-Esteem
Being Assertive
Weight Loss
Body Image
Breast Cancer Concerns
Living in Another Country (Cultural Issues)
Career Coaching
Work/Life Balance
Divorce/Separation
Communications Skills
Stress Management
Service Delivery
Personal Coaching can be conducted face-to-face or over the telephone and each Client is invited to design their coaching programme with their Coach as part of the induction session.